written by: Valentina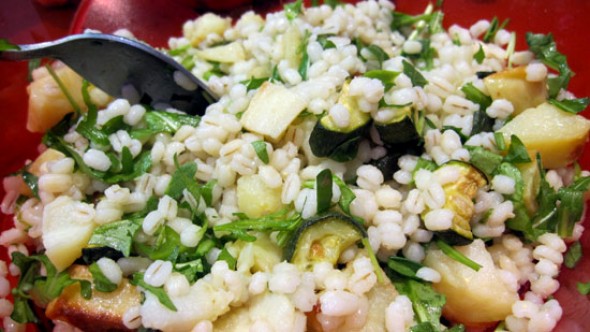 Ingredients for 4 people:
- 200 gr barleycorns
- 2 zucchini
- 3 potatoes
- Rucola
- Extra virgin olive oil, salt

Rinse the barley 2-3 times under running water, in order to eliminate flours.
Boil 1,5 l of water, put the barley and add salt (cooking time about 35 minutes).
Drain the barley and cool-down under running water.

You can boil potatoes with barley. Peel and wash potatoes, and cut them in medium pieces. Immerse potatoes in boiling water, salt, and cook them till they will be done, in the final cooking phase of the barley (calculate 15 mins cooking – depending on pieces size). Drain with the barley and let cool-down.

Wash zucchini and cut in fourths and then in slabs. Pan-fry zucchini with a tea spoon of extra-virgin olive oil, salt them, let them not overdone.
Wash rucola, and cut it grossly.

Now you can create your salade: barley, potatoes, zucchini and rucola, salt and extra virgin olive-oil. You can pan-fry the salad with a teaspoon of oil if you prefer to season the salade also with some thyme.

It's a good and easy pic-nic salade, good also on the day after!
Colmean Charming Lodges
32020 Colmean, Canale D'Agordo - BL
(+39) 380 6511350
Follow us