Canederli with Speck
written by: Valentina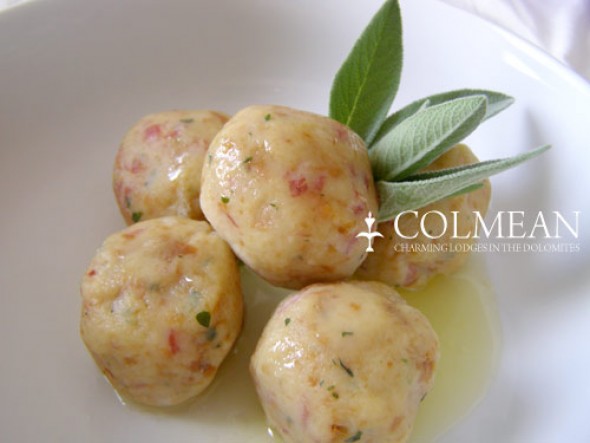 In the menues of the Agordina Valley, Canederli are a must!
They are prepared with stale bread and remains of cold cuts and cheese rests, you can easily understand why this recipe became popular in ancient times.
This is the classical recipe:
200 gr of stale bread
2 lt of buillon
20 gr of butter
2 eggs
30 gr of flour 00 type
1 onion "scalogno" type
150 ml of milk
One slice of speck
Parsley (a handful)
Chive
Pepper or nutmeg
Sage
Salt
In a bowl mix together: beaten eggs, salt and milk.
Chop the bread in cubes and mix it with the eggs, let it stand for at least 2 hours.
Mince the onion, put it in a pan wit virgin olive oil and let it fry over low heat.
Chop the speck in very small cubs and mince the chive.
After two hours mix together all ingredients: bread,onion, speck and chive.
Form balls 4 cm diameter wide.
Boil canederli in the buillon 3 minutes and serve them with butter and sage
I like them because: they are typical or the poor cuisine, made with rests.
Enjoy!
Valentina
Colmean Charming Lodges
32020 Colmean, Canale D'Agordo - BL
(+39) 380 6511350
Follow us