Carfogn
written by: Valentina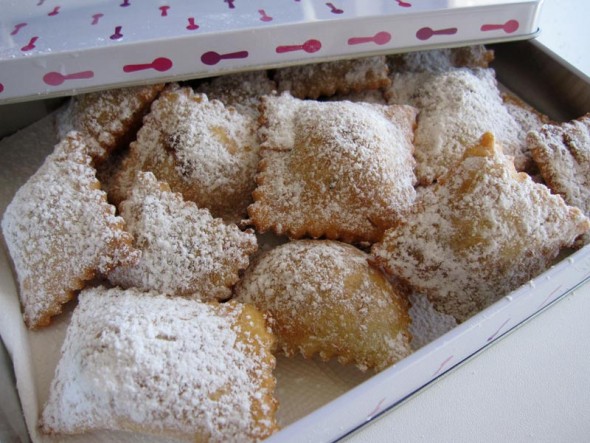 These are typical sweets of the Belluno province. The origin of this name comes from Carfon which is a fascinating villane of Tabià in the vicinità of Caviola.
These sweets are stuffed with poppy seeds, cut as ravioli pasta and finally fried.
INGREDIENTS:

Pastry:
500 gr. flour 00 type
5 tablespoons of sugar
2 eggs
1 egg yolk
½ shot glass of grappa
1/8 white wine
A pinch of yeast
A pinch of salt
A vanilla bean
Bio Lemon peel
Filling:
200 gr poppy seeds
200 gr dark chocolate
200 gr honey
A shot glass of grappa
Filling
:
Mince chocolate, poppy seeds, add honey, grappa and mix all together.
Pastry
:
Mix all ingredients together till obtaining a uniform pastry.
Using a pasta machine, obtain a very thin pastry (1 mm).
Put the filling in small amounts at 2 cm distance form each other on a line. Cover with a pastry strip. Then press around the filling to attach the two layers together. If needed you can wet the base.
Then using a pastry wheel, obtain rectangles.
Fry the Carfogn in hot oil, cover with icing sugar and serve them when they are cold.

Colmean Charming Lodges
32020 Colmean, Canale D'Agordo - BL
(+39) 380 6511350
Follow us